Chemical Name: SYR-472
SYR-472 succinate
Trelagliptin Succinate (SYR-472)
SYR 111472 succinate
Trelagliptin succinat
Molecular Formula: C22H26FN5O6
Formula Weight: 475.4701432
CAS No.: 1029877-94-8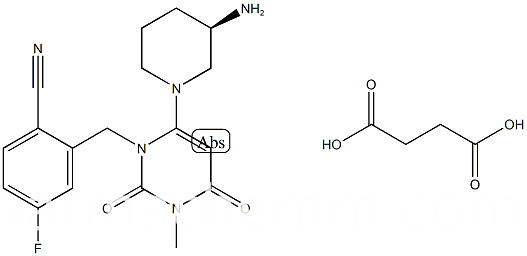 Chemical Name: Trelagliptin
Molecular Formula: C18H20FN5O2
Formula Weight: 357.3821032
CAS No.: 865759-25-7
MOL File: Mol file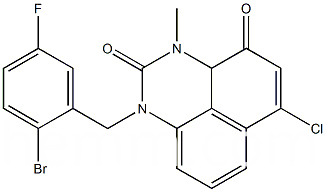 Trelagliptin (Zafatek) is an orally active dipeptidyl peptidase (DPP)-4 inhibitor developed by Takeda and approved in Japan for the treatment of type 2 diabetes mellitus (T2DM). Unlike other approved agents of its class, which are usually administered once daily, trelagliptin can be administered once weekly. Phase II development of trelagliptin was discontinued in the USA and EU, as Takeda considered that the costs associated with obtaining approval in these markets were prohibitive. This article summarizes the milestones in the development of trelagliptin leading to this first approval for T2DM.
Shipping Condition: Shipped under ambient temperature as non-hazardous chemical. This product is stable enough for a few weeks during ordinary shipping and time spent in Customs.
Storage Condition: Dry, dark and at 0 - 4 C for short term (days to weeks) or -20 C for long term (months to years).
Solubility: Soluble in DMSO, not in water
Shelf Life: >2 years if stored properly
Drug Formulation: This drug may be formulated in DMSO
Stock Solution Storage: 0 - 4 C for short term (days to weeks), or -20 C for long term (months
relagliptin, also known as SYR-472, is a long acting dipeptidyl peptidase-4 (DPP-4) inhibitor that is being developed by Takeda for the treatment of type 2 diabetes (T2D). Once-weekly SYR-472 treatment produced clinically and statistically significant improvements in glycaemic control in patients with type 2 diabetes. It was well tolerated and might be a new treatment option for patients with this disease.
Looking for ideal
Trelagliptin Free Base Zafatek
Manufacturer & supplier ? We have a wide selection at great prices to help you get creative. All the Trelagliptin Succinate Tablet API are quality guaranteed. We are China Origin Factory of SYR-472 Cas 1029877-94-8 Succinate 99%. If you have any question, please feel free to contact us.
Product Categories : Antidiabetic/Antihypertensive